It's time to
treat Non-24 with HETLIOZ® (tasimelteon)
HETLIOZ® (tasimelteon) demonstrated significant decreases in daytime sleep duration and increases in nighttime sleep duration, as compared to placebo1
In SET, a 6-month study to measure the safety and efficacy of tasimelteon, the circadian period of patients was measured at the end of the first month1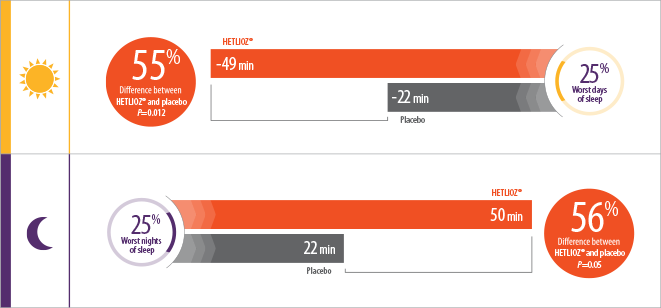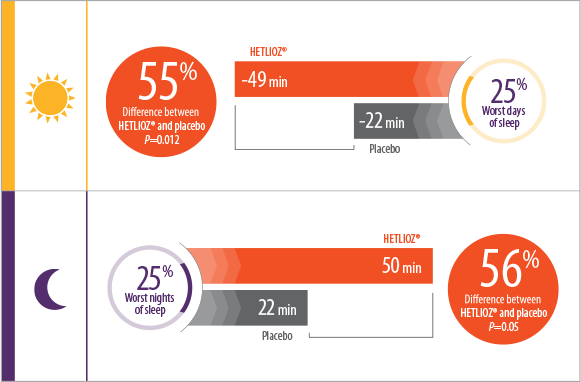 Patients treated with HETLIOZ® experienced a 2-fold reduction in total daytime sleep vs placebo, during the 25% worst days when patients were most symptomatic1
During the 25% worst nights of sleep, patients treated with HETLIOZ® experienced a 2-fold increase in total nighttime sleep vs those who received placebo1
Study design—SET: A 6-month, Phase 3, randomized, double-masked, placebo-controlled, multicenter trial. Totally blind patients with Non-24 (N=84) who had non-entrained melatonin circadian rhythms were randomized to receive HETLIOZ® 20 mg (n=42) or placebo (n=42).1,2
SET, Safety and Efficacy of Tasimelteon.
HETLIOZ® clinical trial program:
2 pivotal, Phase 3, multicenter, randomized, double-masked, placebo-controlled trials in patients who are

totally blind with Non-24

1,2
Efficacy assessments were based on the 25% of nights with the least nighttime sleep and the 25% of days with the most daytime sleep
Patients were more symptomatic when sleep-wake cycles were most misaligned with the 24-hour day
Study 1: SET2


References: 1. HETLIOZ® [prescribing information]. Vanda Pharmaceuticals Inc. 2014. 2. Data on file. Vanda Pharmaceuticals Inc. 2014.